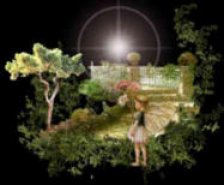 Though steep is the path I follow today,
The footprints of time will show me the way.
For many have traveled a similar road,
And carried an equal or heavier load.
No troubles I face are new to this earth,
That man has not faced from time of his birth.
The route has been charted and roads have been paved
By legions before me who were stalwart and brave.
Their steps never faltered nor courage grew dim,
For they trusted the Lord and let Him lead them.
If my faith and my trust remain steadfast and true,
God will guide and protect me in all that I do.
Dolores Karides